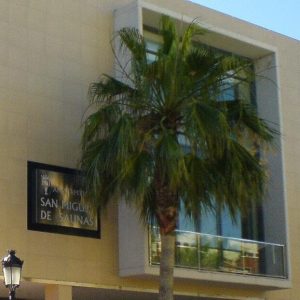 COUNCIL OF ENVIRONMENT
THE COUNCIL OF ENVIRONMENT OF THE CITY COUNCIL OF SAN MIGUEL DE SALINAS TOGETHER WITH THE C.E.I.P GLORÍA FUERTES SHALL ORGANIZE THE THURSDAY JANUARY 26 A DAY TO HOLD THE WORLD DAY OF ENVIRONMENTAL EDUCATION IN THE CITY SCHOOL.
THESE DAYS WILL BE CONSIDERED IN TALKS ABOUT ENVIRONMENTAL AWARENESS AND AWARENESS FROM THE BIOLOGIST MIGUEL ESCOLANO PUJOL, WITH THE AIM OF TRANSMITTING STUDENTS THE IMPORTANCE OF THE NATURAL VALUES AND SOCIAL HABITS THAT WE SHOULD HAVE IN OUR SOCIETY.
THE MAIN THEME OF THE TALK WILL BE WHY AND HOW TO TAKE CARE OF THE ENVIRONMENT WITHOUT LEAVING THE NEED TO SAVE WATER AND ENERGY THROUGH DOMESTIC HABITS OR THE IMPORTANCE OF THE RECYCLING PROCESS WHEN WE GENERATE WASTE.
ENVIRONMENTAL CARE MUST BE ABOVE ALL, AS IT GUARANTEES OUR SURVIVAL AND THE FUTURE GENERATIONS, AND THE BEST AGE TO ACQUIRE THESE KNOWLEDGE AND SKILLS FOR THEN TRANSMITTING AND PROMOTING PARTICIPATION IN ACTIVITIES RELATED TO THE ENVIRONMENT IS NOT OTHER THAN WHERE SMALL. THIS DOES NOT REMOVE THAT THE CARE OF THE PLANET IS A COMMITMENT OF ALL. THIS IS THE MOTTO OF THE CAMPAIGN A COMMITMENT OF ALL.
BOTH THE COUNCIL OF THE ENVIRONMENT AND THE C.E.I.P GLORIA FUERTES SUPPORT THE WORDS OF THE BIOLOGIST AND EXPECT THAT THESE DAYS WILL BE A SUCCESS AND CONTRIBUTE TO GETTING A BETTER ENVIRONMENT.
A DIPLOMARY IS DELIVERED TO STUDENTS WITH THE PURPOSE THAT THE AWARENESS CAMPAIGN ARRIVES UP TO THEIR HOMES OF THE SMALLEST HAND.
SAN MIGUEL ON JANUARY 23, 2017
Mª JOSÉ COSTA MEDRANO, COUNCILOR OF THE ENVIRONMENT
J. AMANCIO MARTÍNEZ MACIÁ COUNCILOR OF EDUCATION