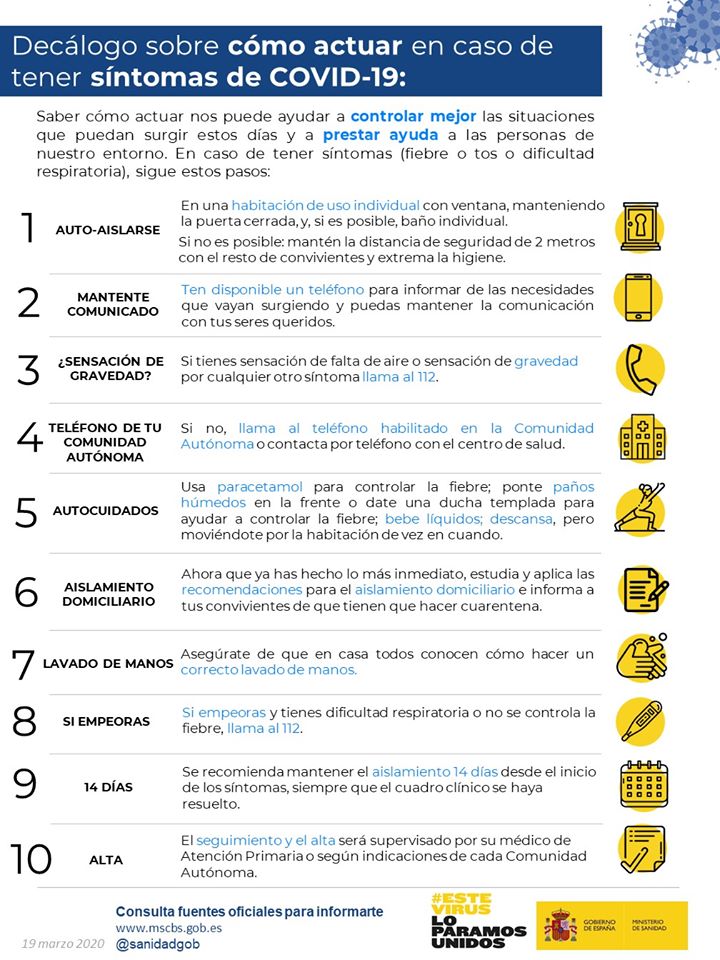 🇪🇸 Decálogo sobre cómo actuar en caso de tener síntomas de COVID-19 elaborado por el Ministerio de Sanidad.
☎️Teléfonos de interés:
– Emergencias: 112
– COVID-19 Comunidad Valenciana: 900 300 555
– Centro de salud San Miguel de Salinas: 966 926 858
🇬🇧 Decalogue on how to act in case of having symptoms of COVID-19 written by the Ministry of Health.
☎️Telephone numbers of interest:
– Emergencies: 112
– COVID-19 Valencian Community: 900 300 555
– San Miguel de Salinas Health Center: 966 926 858
1. SELF-ISOLATED
In a room for individual use, with a window, keeping the door closed, and if possible, an individual bathroom.
If this is not possible, keep the safety distance of two meters with the rest of the people in the house and take extreme hygiene measures.
2. STAY CONNECTED
Have a phone available to report the needs that arise and to maintain communication with your loved ones.
3. SEVERE SYMPTOMS?
If you are suffering lack of breath or you have any other severe symptom, call 112.
4. EMERGENCY TELEPHONE
If not, call the number enabled in your autonomous community or contact the local health center.
5. SELF-CARE
Use paracetamol to control fever, put damp cloths on your forehead or take a warm shower to help control fever, drink fluids, rest, move around the room from time to time.
6. HOME ISOLATION
Now that you have done the most immediate, study and apply the recommendations for home isolation and inform the rest of the household that they have to quarantine.
7. HAND WASHING
Make sure everyone at home knows how to do a proper hand wash.
8. IF YOU GET WORSE
If you get worse and have difficulty breathing or can't control the fever, call 112.
9. 14 DAYS
It is recommended to maintain the isolation 14 days from the beginning of the symptoms, whenever there is improvement.
10. MEDICAL RELEASE
Medical release will be supervised by your primary care doctor or as indicated by each autonomous community.
#COVID19 #protocolodeactuacion #YoMeQuedoEnCasa #cuarentena #quarantine #estevirusloparamosunidxs